Discover Our Breakthrough Approach to Being a Start-Up Entrepreneur
Is Your Brain Wiring Holding You
Back From Being A Successful
Start-Up Entrepreneur?
Now, You Can Train Your Brain to Get Rid of The Mental Blocks That Are Stopping You From Succeeding!
Do any of the following start-up situations apply to you?
Are you just beginning your Start-up and have fears and concerns that are stopping you from moving forward?
Have you begun your Start-up, but are having limited success?
Are you moving along with your Start-up, but
struggling to reach greater levels of success?
Are any of these blocks affecting your ability to:
Analyze the benefits and risks involved with achieving your goals?
See yourself as an effective and successful entrepreneur?
Find contacts and team members?
Approach potential investors, mentors and coaches?
Answer questions and objections?
Do follow-up?
Ask people to invest?
If you answered yes to any of these questions or have other issues, you can now take control of your success by rewiring your brain to eliminate these mental blocks and more.
Why is this? It's because your current brain wiring is stopping you from creating the level of accomplishment you want to achieve. YOU CAN SOLVE THIS by experiencing my research validated Switched-On Start-Up Entrepreneur (SOSE) program where you will change your brain wiring in just minutes to reach amazing new levels of entrepreneurial success.
Want some proof? As an example, a group in Charlottesville, Virginia was training Homeless People to become Entrepreneurs and had me conduct my SOSE seminar. To measure the level of change they experienced, I had the attendees fill out a 15-item questionnaire three times:

At the start of the seminar day to see where they were at.

At the end of the day to see what changed.

A month later to see if the changes held.
Well, here's a taste of the almost unbelievable results from the attendees responding to one of these statements – I am an Effective and Successful Start-up Entrepreneur.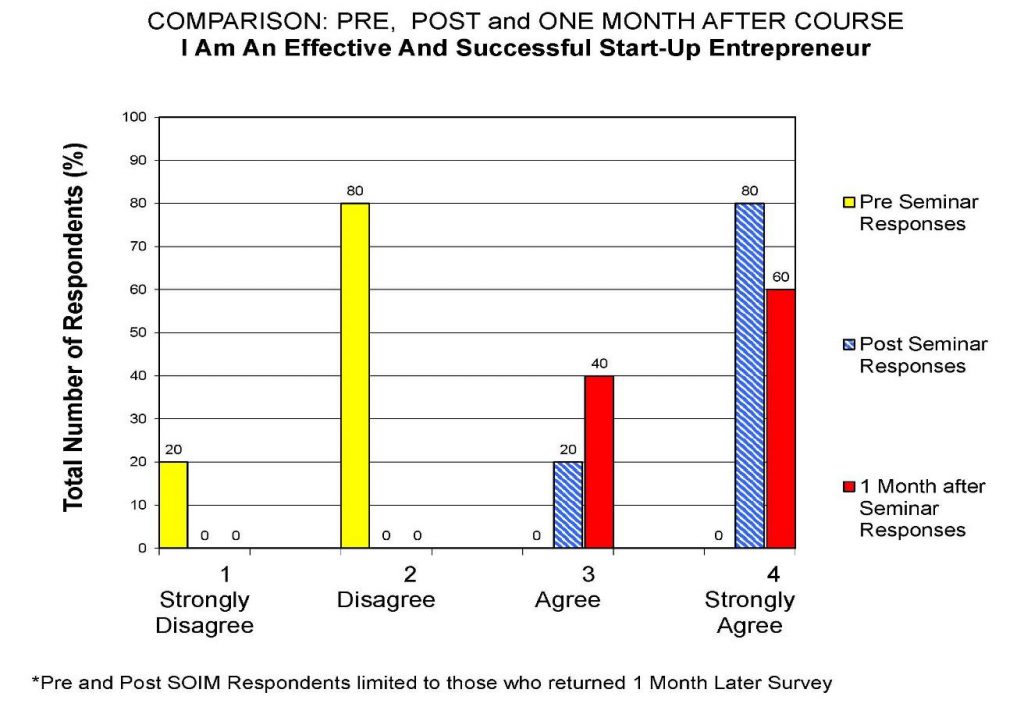 Let me explain what this graph is showing. At the beginning of the seminar, as you might expect with a group of homeless people, every single attendee responded negatively to this statement with 80% selecting Disagree and 20% selecting Strongly Disagree (the yellow bars).
Do you think having 100% of the attendees viewing themselves as not being an effective and successful entrepreneur would impact their success as a Start-up Entrepreneur? ABSOLUTELY!
At the end of the seminar, not a single person was still on the negative side when they responded to the questionnaire. Now, 20% selected Agree and 80% picked Strongly Agree (see the blue stripped bars)!
Mind-Blowing Results
Here's where the impact of the Switched-On Start-Up Entrepreneur Seminar becomes totally mind-blowing! One Month Later, every one of the attendees were still on the positive side with 40% selecting Agree and 60% selecting Strongly Agree (the red bars).
Have you ever left a seminar really excited only to realize shortly afterwards that you had experienced a "seminar high" by reverting back to the way you were before the seminar? This is not what happens with this seminar. No seminar high effect! Just powerful results after the seminar.
You're probably not homeless, so wouldn't this type of very dramatic change that they experienced have an impact on your ability to pursue your dreams of success as an entrepreneur? ABSOLUTELY!

Read what Inc. has to say about the Switched-On Start-Up Entrepreneur Seminar.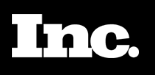 Here's what 3 of the participants had to say about the impact that this one-day seminar had on them. To say their comments were powerful would be an understatement, so watch the videos and judge for yourself.
Becky Blanton
Meryl Ann Butler
David Durovy
Jeff Eaddy took the online course. Here's what he said about it's impact on increasing his business.
Case Study
A Company Did Its Own Bottom Line Research
I want to tell you the story of Kevin Kordek, President of A-Active Termite and Pest Control Company in Virginia Beach, VA.
Kevin is quite an Entrepreneur. He's been President of the National Pest Management Association. His business was selected twice as one of the Best Places to Work in Virginia and he was selected as Hampton Roads Business Person of the Year. 
During the middle of the last recession, Kevin heard me speak to a group he belonged to called Entrepreneur's Organization and he decided to have half his sales force attend a version of Switched-On Startup Entrepreneur seminar that was designed for salespeople to switch them on for selling. It's called Switched-On Selling (SOS). 
Most companies will send their top sales people to training programs hoping to jump their numbers. Instead, I specifically told Kevin to send his mid-level and mediocre salespeople to the class.
Kevin was very heavily into tracking statistics and he found that 6 of the 8 people who attended the seminar immediately jumped above his top tier salespeople. They actually created a new, even higher top tier!
A few months later, I was conducting the SOS Seminar again and Kevin put the rest of his sales force through the program. The results were amazing. I'll let Kevin tell you what happened and how this affected the sale of his company.
As you heard from Kevin, these Seminars are not seminars that you have to believe in for them to work! All you need to do is go through the experience and participate in each video module and the rewiring will happen automatically. End result – No more mental blocks for you as a Start-Up Entrepreneur!
Research Validating the Ability of Our Brains to Change Very Quickly.
A study was published in Cell Metabolism Journal on the neuro plasticity of the brain. In this study, the participants were all healthy but inactive men and women who were asked to exercise briefly. The researchers found that even this short amount of exercise actually caused important structural and chemical changes in the DNA molecules in their muscles.
As in this study, the SOSE Seminar is using very simple and easy to do body movements and exercises called Brain Gym® that are making the changes to the DNA structure in your body.
How Was This Seminar Created?
Let me tell you about myself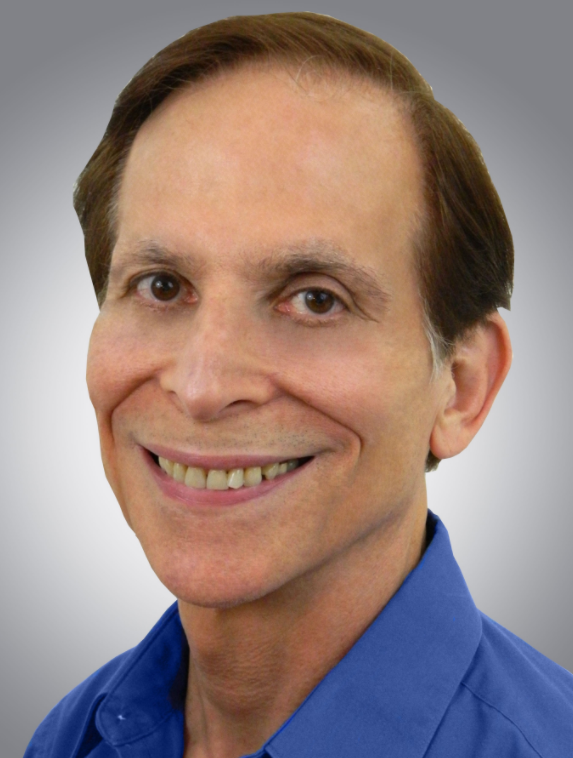 I'm an entrepreneur myself. I started my own business as a speaker, trainer, consultant and pioneer in the field of stress management. I built my business up over 44 years and with my experience studying the brain, I'm uniquely qualified to guide you to your own entrepreneurial success. I've authored 9 books and two of my latest books, Switched-On Selling and Switched-On Networking, became Bestsellers on Amazon.
I created the Switched-On series using the brain rewiring approach called Brain Gym® to teach salespeople, network marketers, internet marketers, and managers how to use my research validated, proven approach to succeed far beyond their wildest dreams. I've probably done more validation studies with clients than any other trainer or training company out there. For me personally, it's actually pretty gratifying to see the level of change that happens so quickly and easily for participants.
A little more background on me. Originally an attorney, I switched gears and got a Masters and Ph.D. in Holistic Health Sciences. I'm on the Board of Directors of Brain Gym International and have served on the Board of the Energy Kinesiology Association.
I am currently President and CEO of Jerry Teplitz Enterprises Inc. and as a professional speaker, I have spoken at over 1700 meetings and to over one million people. I conduct seminars in the areas of leadership, management, stress management, employee productivity and sales development.
Jerry
In creating the Switched-On Start-Up Entrepreneur Seminar, I simply took the same process that's in the SOS Seminar and adapted it to fit what you, as a Start-Up Entrepreneur, need to overcome your mental blocks to succeed.
Keep in mind there is no other Entrepreneurial oriented training program that incorporates this very powerful, unique approach.
As a matter of fact, a good friend of mine, Entrepreneur William T. Brooks, ran a multi-million-dollar sales training company. He brought me in to speak to him and his staff. Here's what Brooks said about the seminar, "This one-day seminar will eliminate your personal barriers to being more successful."
Have You Ever Attended A Seminar That Actually Delivers These Kinds Of Spectacular Results?
I'm Sure Your Response is PROBABLY NEVER
So, I have one question for you…
Would you be willing to spend a short amount of time taking an online seminar which would be unlike anything you've ever experienced before? A seminar guaranteed to switch you on to a dramatically higher level of success with your Start-Up?
That is precisely what the Switched-On Start-Up Entrepreneur Online Seminar will do for you…so long as you: 
DON'T

just passively watch the videos in the modules.

DO actively participate with me and the audience

.
As you'll quickly discover, your success will be in the moving and doing…so, get up and join in!
THIS SEMINAR WILL WORK FOR YOU, TOO!
This will allow you to transform your entrepreneur abilities, in just minutes, to do what needs to be done for you to succeed. And You Can Start Right Now!
Take this opportunity today to take advantage of a Special Pre-Release discount of $300.00 off the regular price of this Online Seminar. Sign up now!
And You'll Be Impressed With Your Results
… Or Your Money Back!
I'm so confident that you will be blown away by the amazing results of this online course that I've decided to offer you not a 30-day, but a full 60-day, no questions asked, 100% money-back guarantee!
I do have one request concerning the 60-day money-back guarantee (it's a request and not a requirement). Since you are going to find this online training to be so completely different from anything you have ever experienced, my request is that you finish at least half the modules before asking for a refund.
This is because I want to give you the time you need to begin experiencing the changes in yourself so that you will know that this program is really worth continuing.
By now, you're probably asking:
What exactly will I get in the Switched-On Start-Up Entrepreneur Online Seminar?
For starters, you have 2 options
Choose Plan 1 or Plan 2
Plan 1 – Get The Seminar
By purchasing this online streaming course, you'll:
Receive a personal code to access your Special Members Only area where you will be able to take the 20 online modules at your own pace

Receive access to the 46-page participant manual

Take the Pre-Course Questionnaire to see where you're at now as a Start-Up Entrepreneur

Complete a questionnaire at the end of training to see how you've transformed

You'll be able to complete a final questionnaire 30 days later, so you can confirm and reinforce that your transformations have really taken place
SPECIAL PRE-RELEASE DISCOUNT
While the regular retail price will be $697, with your Special Pre-Release $300 discount, your price for the Switched-On Start-Up Entrepreneur Online Seminar is only $397. This offer is for a limited time only.
And remember, it's all backed by my 60-day, no questions asked, Money-Back Guarantee.
Order Now!
And Save $300
Today Only $397


Order with confidence on 100% secure servers
Or
Use The Payment Option Now!
3 Monthly Payments of $149 (Totaling $447*)
Your First Payment Today will be $149
*Includes service charge

NOT SURE YOU WILL FOLLOW THROUGH AND COMPLETE THE COURSE ON YOUR OWN?
THEN PLAN 2 WILL BE BEST FOR YOU!
PLAN 2
Let me ask you this question. Have you ever purchased a training program with the best of intentions, but you never even opened the product or have you ever started a training program but didn't complete it?
If this describes you, then this six week Hold Your Feet to the Fire Group Coaching Call Program will keep you motivated to complete each week's assignment, so that you'll be ready for the group call with me. I'm going to hold your feet to the fire, so you can get all the benefits by actually completing the SOSE Seminar.
Since I want you to be successful, I need to limit my coaching program to the First 20 People who sign up. Over 20 will be put on a waiting list.
If you have purchased other training programs in the past and actually completed them, then you just need to invest in Plan 1. If not, then Plan 2 is definitely for you.
WITH PLAN 2 – YOU'LL GET EVERYTHING IN PLAN 1
PLUS
MY SIX WEEK
GROUP COACHING PROGRAM
AND
ALL THE BONUS GIFTS BELOW
Special Bonus #1 – Success For Salespeople - mp3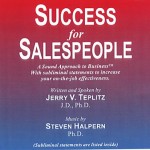 You'll need to be selling your idea to investors and potential team members, which means you'll have to put your selling hat on. This bonus gift is a downloadable subliminal music mp3 file called
Success For Salespeople
. The music in this recording is by Steven Halpern and the subliminal messages are by me. Subliminal means the statements are below your threshold of being consciously able to hear what is being said.
The music and the messages are designed to work with the subconscious part of your brain. Since it is subliminal, it means you don't have to stop and listen to it. Just play it an hour a day when you are having to sell your product or service. It's yours to keep even if you return the program
Retail – $20.00
SPECIAL BONUS #2 – Success For Mangers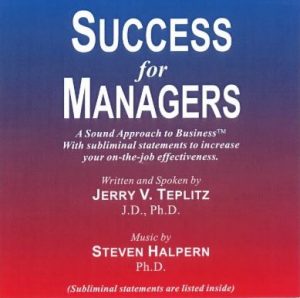 Success For Managers subliminal music Mp3 recording is also subliminal and will switch you on for managing your team members as you build your company. It's also yours to keep even if you return the program.
Retail – $20.00
SPECIAL BONUS #3 - Speeding to Effective Time Mastery: Working Smarter Not Harder Webinar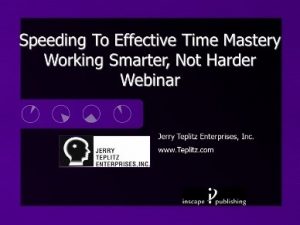 How do you effectively deal with the constant deadlines, conflicting priorities, meetings, as well as the other time challenges that you are faced with on a daily basis as a Start-Up Entrepreneur? With this seminar, you will gain an understanding and the ability to be a better time manager. You will discover your present time management strengths as well as the areas needing improvement. As a result, you will leave with a strategy and action plan to develop and implement more effective time management skills in your entrepreneurial life. You'll be receiving a link to the webinar.
Retail – $60.00
SPECIAL BONUS #4 - Creating High Energy Websites and PR Materials
Are lack-luster PR materials leaving your readers unmotivated? Is your website just ho-hum? There is a reason for that and a great way to fix those problems by leaving your readers and viewers more energized and more money in your pocket.
The video Creating High Energy Websites and PR Materials does just that. Use the same system for reaching your highest potential in your communications as Chicken Soup for The Soul series co-authors Jack Canfield and Marci Shimoff do. Canfield says, "We use Dr. Teplitz method for every Chicken Soup book we do." And, Shimoff agrees. "I know that the work that [Dr.Teplitz] did in raising the 'energy' of the covers and the contents of our book to their highest levels was an extraordinary boost in helping make both of these books runaway bestsellers. I would encourage any author, or graphic designer, or public relations person to use your service."
But, don't take their word for it, find out for yourself with our no-risk guarantee! Learn how to check the energy level for every piece of communication that leaves your office before it goes out. Create websites with the assurance that it is as high energy as it can be. And, what does that mean for the bottom line? Burt Dublin, president of Speaking Success System says it best. "We tested the new ad. Here are the results: Inquiries slightly more than doubled. Sales – the best yardstick – fully doubled."
Retail – $110.00
Plan 2's Regular Price = $2,000
Your Special Price is only $997
Remember, this offer is for a limited time and I can only accept the first 20 people who enroll. Over 20 will be put on a waiting list.


Order with confidence on 100% secure servers
Or
Use The Payment Option Now!
3 Monthly Payments of $360 (Totaling $1,080*)
Your First Payment Will Be Charged Today
*Includes service charge

Order with confidence on 100% secure servers
There's only one thing left for you to do to jump start yourself to new levels of success as a Start-Up Entrepreneur: Just Sign up NOW with Plan 1 or Plan 2 and experience the Switched-On Startup Entrepreneur Online Seminar.
Wishing you great entrepreneurial success,
Jerry V. Teplitz, JD, PhD, CSP
P.S. If you ONLY want the Seminar, sign up for Plan 1 NOW.
P.P.S. If you need me to HOLD YOUR FEET TO THE FIRE "Signup for Plan 2 Now". Take advantage of the Plan 2 Special Offer and save over $1,000 dollars plus you'll receive all the bonus gifts.
P.P.S. You're still here? You're obviously interested in what I've been saying, and it looks like you don't want to continue to struggle as a Start-Up Entrepreneur. So, Sign Me Up for Plan 1. What have you got to lose? Nothing. Because of our amazing 60-day Money-Back Guarantee, you can take advantage of this opportunity right now. Don't miss out on this Pre-Release offer – secure your online course now! Sign Me Up for Plan 2 Now.